Frank C. Greider MS, DDS, PC · Prosthodontics, Houston Texas
Advanced Hi-tech Equipment
Your discovery of exceptional dentistry is here.
Quality dentistry is paramount. Our office utilizes the latest in dental technology. Our state-of-the-art equipment helps speed up your dental visits and allows our patients to be more comfortable. Modern materials combined with modern dental equipment has set a new standard in the quality of dental procedures and restorations.
Extra-Oral Dental Suction System
During dental treatment, saliva droplets and aerosols are produced by high-speed handpieces and ultrasonic scalers, putting the procedure and our staff at risk of infection.
Our new Extra-Oral Dental Suction System removes these droplets and aerosols effectively. This greatly reduces risk of infection and keeps the air in the op-room clean and safe.
Comfort Control Syringe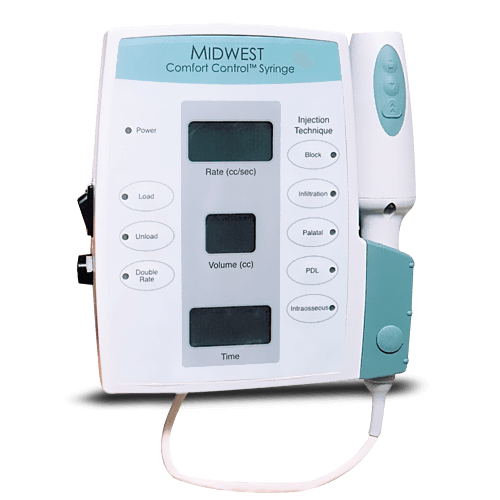 We now offer a revolutionary, pain-free alternative to the traditional anesthetic needles and syringes. We know that some patients get more nervous than others do at the mere sight of a needle or a syringe. That is why we now perform all anesthetic injections with a revolutionary system called the Comfort Control Syringe.
Digital X-Rays
Our office uses the latest in digital x-ray technology. Digital x-rays offer a detailed image of your entire mouth and also deliver 90% less radiation than traditional film x-rays. X-rays play an invaluable role in the diagnosis of periodontal problems as well as provide a clear picture for Dr. Frank C. Greider to accurately diagnose the problem and provide clear treatment regiments.

We place a small sensor in your mouth and then an x-ray beam is sent through your teeth and bone and onto the sensor, which records the image of your teeth and bone and sends it to the computer. The sensor can then be re-positioned to capture images of other sections of your teeth and bones. The digital dental x-ray system is more sensitive than dental x-ray film systems so your exposure to x-rays is cut by 90%.

The large enhanced images that you see are what Dr. Frank C. Greider sees, so it is easier for you to understand how they will treat your teeth and bones. Your periodontal checkups take less time and it is fun to watch the system work. Most patients are amazed.
Air Abrasion
Whenever possible we use air abrasion rather than a drill. Air abrasion takes less tooth structure than a drill. Air abrasion also eliminates vibration, noise, and the odor associated with a drill procedure.
Your tooth can then be filled with a strong chemically bonded material that can be matched to the color of your tooth making it appear nearly invisible. Tooth colored fillings are beautiful in appearance and can be completed in a single visit.
Panoramic X-Rays
Panoramic x-rays offer patients a complete detailed image of the entire mouth including the teeth, upper and lower jaws, sinuses and TMJ. It provides a complete picture on how everything looks and relates to each other.
T-Scan
The T-Scan is the only system available to measure dental occlusal forces and quantify how well-balanced a patient's occlusion is. It is as simple as having the patient bite down on the ultra-thin sensor while the computer analyzes and displays the data.
Sedation Dentistry
For cases that require intravenous (IV) sedation, we will schedule an anesthesiologist to come in to our office and administer the sedation for your procedure.
Sedation dentistry administers medication to help dental patients remain calm and relaxed prior to and during dental procedures. If you are experiencing an uncomfortably high level of anxiety, Dr. Frank C. Greider may recommend dental sedation. The most common form of dental sedation is an oral medication or nitrous oxide gas which is inhaled.
Decades of research and successful practice have shown that the inhalation of a mix of nitrous oxide and oxygen provides fast, effective analgesia, pain relief and, relaxation. Allowing Dr. Frank C. Greider to complete your dental work while you stay absolutely comfortable. Nitrous oxide takes effect almost instantly and is out of the patient's system within a few minutes, allowing a patient to quickly return to normal activities after dental work is complete.
Laser Dentistry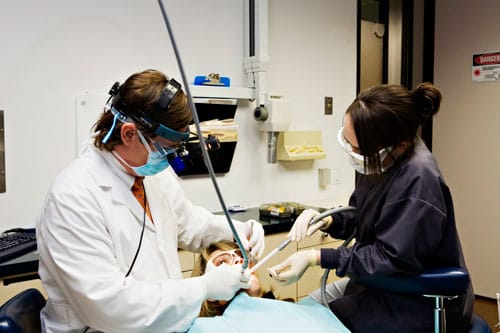 Laser therapy is an advanced remedial process that aids in a quicker recovery time following many oral procedures or surgeries. The recovery process is hastened by exposing new gum tissue, improving circulation, and stimulating existing bacteria responsible for healing the surgical site.
We use the latest state-of-the-art LightWalker laser system from Fotona to treat gum disease such as periodontitis as well as perform more advanced procedures such as gum grafts. In addition, our unique laser system can be used to treat hard tissue problems as well such as removing decay from cavities or crown lengthening without having to use a traditional dental drill or scalpel!
Intra-Oral Camera
We provide our patients with an intra-oral video examination. This allows both the doctor and the patient to see the condition of the mouth at the same time, then discuss treatment options.
Teeth Whitening
Looking for Teeth Whitening in Houston? Yearning for a bright youthful smile?
Dr. Frank C. Greider offers a full range of cosmetic dentistry including professional teeth whitening. Teeth whitening is the #1 requested and performed cosmetic dental procedure. Teeth whitening (sometimes called teeth bleaching) is a procedure that brightens teeth and helps to remove stains and discoloration.
Throughout the day, a thin coating of bio-film collect on teeth. The bio-film can attract stains that can be trapped in the pores of tooth's enamel.
Teeth whitening by a dental professional is key as cavities need to be treated before teeth are whitened. Cavities are problematic because whitening solution can penetrate the cavity allowing decay to reach inner areas of a tooth. People with good dental health may also use a kit to whiten teeth at home. However, in a single office visit, teeth whitening performed by a dental professional will produce brighter results that are more consistent in color across all teeth.
Dental Microscope
With the use of our high powered dental microscope we are able to see dental anomalies such as cracks and fractures which may not otherwise be seen. It also allows us to perform microdental procedures thus saving precious tooth structure. This allows us to follow our commitment towards conservative dentistry.
REQUEST AN APPOINTMENT NOW!
Dr. Frank C. Greider is waiting to meet you and your family and provide you with the dental care you deserve!