Frank C. Greider MS, DDS, PC · Prosthodontics, Houston Texas
Topics of Interest
Browse our topics of interest that concern your dental health and well being. Many factors can contribute to maintaining healthy teeth and gums and you can play an active part in having a healthy beautiful smile.
Bruxism
Bruxism is a condition that damages the teeth by exerting pressure and friction during the sleeping hours, although it can also happen while awake during times of stress. The jaw clenches together, and grinds the upper and lower teeth against one another with up to 250 pounds of force per square inch. The result is eroded teeth, as well as the potential to:
Wear down tooth enamel
Break fillings or other dental work
Worsen TMJ dysfunction
Create jaw pain, toothaches, headaches, or earaches
Cause tooth sensitivity
Increase tooth mobility
Although there is no cure for Bruxism, the condition can be managed; additionally, those who have already sustained significant damage to their teeth can speak to Dr. Frank C. Greider about restorative procedures that can bring you back a smile worth smiling about.
Pregnancy
We ask that our female patients who are pregnant or think they possibly could be to inform us prior to your x-ray examination and dental treatment.
Tobacco
You are probably familiar with the links between tobacco use and lung disease, cancer and cardiovascular disease.
Current studies have also established that tobacco smoking not only causes direct damage to your mouth but also makes periodontal diseases more damaging and harder to treat.
There is a greater incidence of calculus formation on teeth, deeper pockets between gums and teeth, more gum recession and more loss of the bone that hold teeth in your mouth. In addition, smokeless tobacco greatly increases your chance of developing oral cancer. Any tobacco usage can complicate the placement of dental implants.
Chemicals in tobacco such as nicotine, which constricts blood vessels, slow down wound healing.
Other chemicals impair the function of your white blood cells which are your first line of defense against infection. The tars contain carcinogens which over time induce cell mutations and cancers.
Quitting tobacco use will lower the risk of your developing cancer and improve the health of your teeth and gums, as well as your heart and lungs.
Smokeless tobacco poses very serious problems including:
- Causes tooth decay
- Eats away your gums
- Leads to tooth loss
- Bad Breath
- Stains your teeth
- Causes oral sensitivity to hot and cold
- Decreases sense of taste and smell
If oral cancer is left untreated long enough, it may even cause death.
Oral Piercing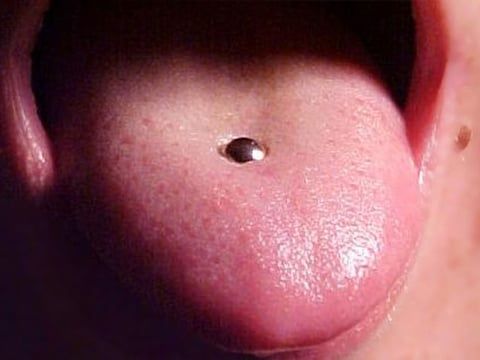 Oral piercings can be bad for your health. Because your mouth contains millions of bacteria, infection is a common complication of oral piercing. Pain and swelling are other side effects of piercing. Your tongue (a popular piercing site in the mouth) could swell large enough to close off your airway. Piercings can also cause uncontrollable bleeding or nerve damage. The jewelry itself also presents some hazards. You can choke on any studs, barbells or hoops that come loose in your mouth, and contact with the jewelry can chip or crack your teeth.
REQUEST AN APPOINTMENT NOW!
Dr. Frank C. Greider is waiting to meet you and your family and provide you with the dental care you deserve!